Hi everyone! Woohoo, it's Friday again!
which means we're one step closer to the weekend!
that means it's time for... the "Friday Chaos Blog Hop!"
This is a link up for bloggers who want to increase traffic to their blogs and meet new friends!
RULES:
1. Follow both hosts (The first two links below on each link up)
2. Follow all of the co-hosts (the next 5 link ups)
3. Grab the button and put it on your blog somewhere to be seen.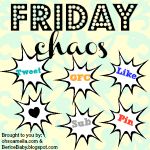 4. Don't just add your blog hoping to get followers, join in the fun and visit a few blogs.
4. Tweet about this hop

Tweet
wont you join ?
Jenn xo