18
days
until
Christmas
!!
here I am linking up with Yesi again :)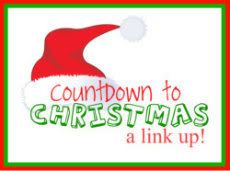 How to be apart of the Link Up:
Write a post on the topic of the day
Grab the button & Place it anywhere in your post
Link up down below
Visit the Host & Co Hosts of the day
Make New friends & Have fun!

If you would like to Co-host email yesi at:
formiamiandlove@ymail.com
** All I ask of you is to include the button in the post or include a link back to the main page of the link up**
Deal? So lets get started!
Topic of the Day:
Holiday
Traditions
!

!

!
1. Favorite holiday destination?
Not really... kind of stay home at Christmas
2. Any family traditions?
Open presents at moms Christmas eve . go to moms boyfriends family Christmas brunch on Christmas morning then go to dads for a few days.
3. Favorite ornament of decoration?
don't really have one.
4. What are you doing for the holidays?
the exact same thing as my family traditions aha
5.Are you a late or early Christmas shopper?
For sure a late one !
6. Who usually cooks holiday dinners?
Moms boyfriend at her place and dad at his place.
7. Have you ever gone Christmas caroling?
not that I know of , I think it would be cool !
8. Do you live where it snows?
yes I do but it doesn't normally snow ill after Christmas

!
9. One thing that makes you happiest at Christmas?
being with family.
10. What do you want most for Christmas?
a hair curler !
what are your traditions ?
Happy holidays !
Jenn xo