I can not believe how fast November went by!
I'm done at the daycare till January and now means I have Thursdays and Fridays off till then !
I'm planning a lot of fun posts for you in December yes I know I said I would do that in November but Ill have more time !
oh P.S its my birthday in 4 days SO excited :D
for the month of December I will be linking up with
for miami and love
for her Christmas countdown link up, Im so excited you all should check it out. !
But right now I am linking up for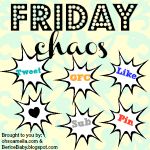 its been a while since ive linked up with anyone. but im getting back on track with this blog !
see you all in December ! <3
Jenn xo